VMG Tree Care is a tree company located in Marietta, GA. We have over 25 years of experience in the tree care business and proudly serve Marietta and all surrounding areas.
If you need tree removal, pruning, trimming, emergency tree removal, debris removal or anything else tree related in the Marietta area, contact us today. We are here to help. A tree care professional will visit your property and assess your needs free of charge. We do not believe in high pressure sales. Our tree care professional will leave you with a hassle-free quote and help book an appointment if you are ready for service. Our quotes are good for 6 months.
At the time of service, our team foreman will explain to you exactly what the procedure will be for your tree service. Whether it is felling numerous trees, or simply pruning or trimming a tree, we always treat your safety and property with the utmost priority. We are always 100% fully licensed, bonded and insured. Your satisfaction is guaranteed. This level of service is reflected in our many online reviews that can be seen here.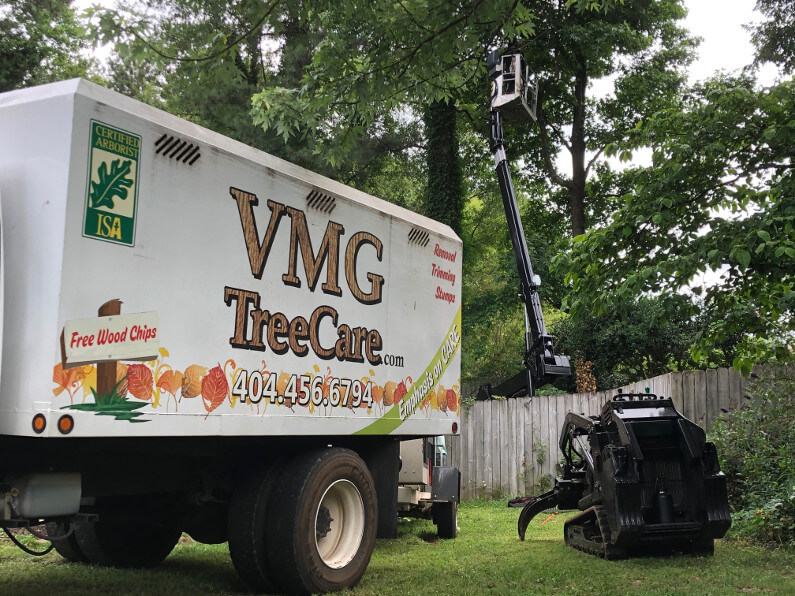 F.A.Q.
WHAT KIND OF SERVICES DO YOU PROVIDE?
VMG Tree care provides tree removal, pruning, trimming, canopy raises, emergency tree removal, stump grinding, preventative maintenance, and large roll off dumpster debris removal services in Marietta.
HOW DO I GET MY FREE QUOTE?
Call or fill out our online form and a representative will gladly schedule a time to meet you at your home. Our consultant in Marietta will provide you with a free quote that is good for 6 months.
ARE YOU LICENSED AND BONDED TO WORK IN THE MARIETTA AREA?
We are always 100% licensed, bonded and insured wherever we work in Georgia. This includes Marietta. You can rest easy that you are fully protected as a homeowner while we are working on your property.